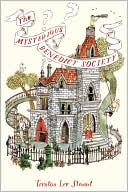 This charming book, around roughly 500 pages, is a fabulous read for middle-grade kids. It's got adventure, warmth, mystery, villains, heroes, and much more. On one level, it's a story of good vs. evil, but it's also a delightful story of friendship and acceptance for those who are outcast and orphaned.

This is my favorite paragraph: "And yet, in these last days, he'd become friends with people who cared about him, quite above and beyond what was expected of him. With perfect clarity he remembered Reynie saying, 'I need you here as a friend.' The effect of those words, and of all his friendships, had grown stronger and stronger, until—thought he couldn't say why he didn't feel mixed up now—at the most desperate moment yet, he knew it to be true. There was bravery in him. It only had to be drawn out" (p. 421).
What is wonderful about this paragraph and about the situation as a whole is that the friends realize they are brave only because they want to help each other. They aren't brave on their own or because they want to save themselves. They are brave for others. What a great lesson in self-sacrifice!
The other thing that I love, in addition to the themes of friendship and courage in the book, is the author's use of language. In nearly every paragraph, or at least once per page, I felt myself inwardly nodding and saying, "Yes, that is the exact, perfect word in that sentence." One of the things that, in my opinion, shows a book is hum-drum or only so-so in quality is the lack of originality and freshness in language, and the lack of precise vocabulary. But precise, concise, carefully chosen language creates fabulous fiction and perfect prose. So, for example, instead of using the word "walked" to show Constance moving down the hallway, Stewart writes that "Constance came tottering after her… (429). Instead of shouting, Mr. Curtain "barks" his commands. This attention to detail in word choice shows not only careful writing, but also savvy editing.
A delightful read for the whole family—check it out today!